Signal Cables
We are instrumental in the quality assured production of an all encompassing collection of signal cables that serves the demands of several industries and sectors. Exhibiting durability and better performance, these specially designed cables are finished to perfection by our technical team. These signal cables are subject to customization at the demands of our clients at very reasonable prices. These includes power cables, , dc signal cables and drive module signal cables.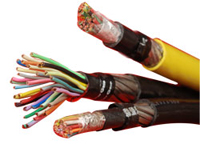 Keeping in mind the Indian industry requirements of power controls, we have specially formulated an array of power control cables whose outer sheath (jacket) is indigenously designed to withstand harshest of environmental conditions. Widely used to carry control signal of low power strength, used with FRLS PVC sheathing to meet flame retardant low smoke properties. These power cables are offered in tinned and bare copper conductors with more than 5 cores that are grey colored with individual core number printed in numerals and words throughout the length. We undertake customization of this range as per the requirements of our clients.
---

Constructed to precision, our range of DC signal cables is imperative in terms of the specific signal to noise ratio and the capacitance to the minimum in presence of stray magnetic fields. These cables find application in sensitive areas where accurate data inputs are required and thus serve the requirements of electronic industries, nuclear power plants, petrochemicals, steel and aviation.
---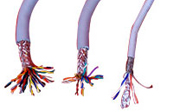 Our collection of drive module signal cables is manufactured to precision and insulated with thermoplastic material incapacitating it to withstand very high temperatures. These drive module signal cables are used in diverse industrial applications and can be custom-made as per the mutually agreed specifications.
---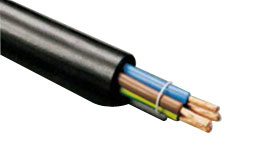 We deal in an industrially verified gamut of insulated electric cables that can be offered to our clients in various specifications of sizes and thickness. Fabricated using superior quality raw material like Annealed Tinned Copper, these cables are coated with a fire proof layer of heat barrier tape so that are safe to use. Durable and fire resistant, these cables are ISI marked as a quality hallmark. Available in single core and double core, these cables are good conductors and are insulated with a layer of high quality FR PVC so as to exhibit better performance.