Armoured/Unarmoured Cables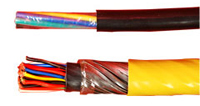 We have in store for our clients, a precision engineered range of armoured cables, armoured power cable, armoured electric cable and unarmoured cables, that finds application in underground works. Offered in standardized and customized forms, these cables cab be availed by our clients at industry leading prices.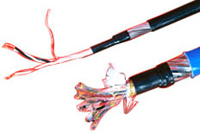 Catering to the diverse requirements of various industrial applications, we have designed a range of armoured cables that exhibit impeccable quality. These flexible armoured power cable are used in lift cables, railways, ship wiring and many more applications as trailing cables. We offer our collection of armoured electric cables in the categories of multi core flexible screen cable and multi core flexible instrumentation armoured cable
---

Our assortment of unarmoured cables is constructed using superior grade copper that is in confirmation to the Indian Standards [IS]. These cables are provided with high screen coverage, copper shielding and aluminium mylar ATC drain wire screen so that they are ideal for better reduction of external interference (noise).